Church of the Cosmic Skull are not only one of the most exciting rock bands in the world today, but also an ever-growing spiritual organization, spreading the light of the Cosmic Rainbow across this planet and beyond…
Formation
Nottingham, England - Brother Bill receives instructions from the Cosmic Skull to bring together an elite group of 7 musicians
Is Satan Real?
Further plans are transmitted for global peace-domination: the band are to release an album. Recording of 'Is Satan Real?' commences at the Doom Room
Indoctrination
The video for Black Slug is released upon an unsuspecting public, while Church pamphlets appear across their hometown
Launch
In a synchronised psychological assault, the Church release 'Is Satan Real?' on limited edition vinyl (Kozmik Artifactz) and play a live show of unprecedented proportions at Rescue Rooms Nottingham
The Sacred Triduum
On the road for the first time, the Church members are astounded by the ecstatic reaction of audiences across England. The Cosmic Word had already spread beyond their expectations
Europe
The Church are invited to play Freak Valley Festival Germany, Desertfest Belgium, Emerald Haze Dublin and more festivals in Europe
Science Fiction
Despite major label offers the Cosmic Skull dictates to Brother Bill that the group remain independent, and the second studio album is released in conjuction with the now infamous video for 'Cold Sweat' and the Inner Sanctum album experience
Everybody's Going To Die
After more European festivals and tourdates, the Church released their third studio album 'Everybody's Going To Die' on Cosmic Friday.  We also saw the launch of the PATH, the Sorcery and Sabotage video premiere, and the biggest headline tour yet. Then came the virus...
Plague
Although global lockdown meant the postponement of the 2020 tour of America, the light of the Cosmic Rainbow continues to shine across the globe. The Church launch the 'Answers in your Soul Video Series' and Brother Bill begins channeling the next album...
There Is No Time
The critically acclaimed fourth album lands in June 2022, with the shock announcement that this is the centre-piece of a 'seven-album canon'. This is followed by the long-awaited US Tour over the summer. The Cosmic Family welcome the Church in earnest and wonderful times are had by all as the Cosmic Word is finally spread over the west coast of America. 2023 beckons their return to the east coast and southern states...
Guitar & Vocals
Founder of the Church  and conduit for the teachings of the Cosmic Skull, Brother Bill Fisher, also  plays drums in Dystopian Future Movies with Sister Caroline, and played bass and vocals in  Mammothwing, alongside many other projects.
Gear:
The Magic Rainbow Guitar
EMG 85/91,  EHX Big Muff Triangle  JHS Mod, Snark Tuner
Ernie Ball Super Slinky, Herco '66 Vintage Extra Light,  Neutrik / Van Damme Cables
Custom Kit Build 25W Valve Amp Head 
70s Marshall Cab with Celestion Greenbacks
Mic'd in studio with Sennheiser MD402 & SM57 
Special  Skill:
Channeling solid  gold bangers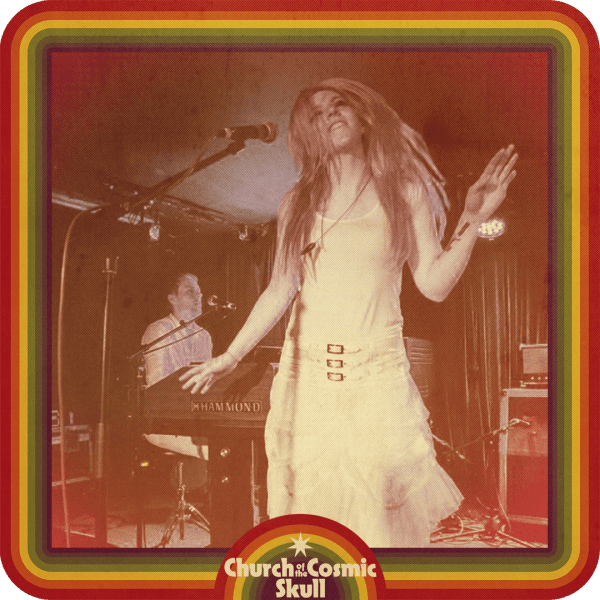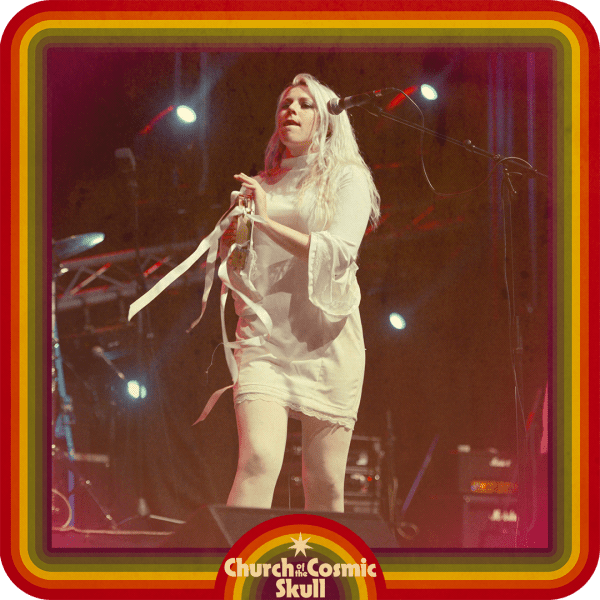 Vocals
Vocal  sorceress and Sligo gal Sister Caroline Cawley is also the chief songwriter and guitarist in Dystopian Future Movies, and has performed guest vocals on several recent  releases from other UK artists. 
Gear:
Telefunken M80,  Shure IEMs
Gibson Guitars,  Laney Amps, Marshall Cabs
Special Skill:
Running  Cyclopean Productions / General craic 
Vocals
Vocal  enchantress Sister Jo Joyce has a solo project called Kore, and has been singing and playing piano and guitar for many years. 
Gear:
Shure SM57, IEMs
Special Skill: 
 Keeping Brother Joseph awake  on stage left
Strings
Newest member and actual blood brother of Laurence, Brother Joseph Stone, has taken the fulltime mantle of string  maestro,  performing electric viola/violin on the 3rd album.  He is also the mastermind behind The Great Hairy Willowherbs.
Gear:
NS Design NXTa  5 String Electric  Violin
EHX Little Big Muff, Vox v847a Wah, Snark Tuner
Laney LC30 mk ii
Special Skill: 
Death stare
Drums
Drum-thrashing  motor enthusiast Brother Laurence Stone  is  the  multi-instrumentalist and founder of Iron Swan and Disc Jockey Luxxxury. He can't wait to fulfil his dream of driving across America!
Gear:
Tama Drums
Paiste Cymbals 
Special Skill: 
Hair and makeup
Keys & Vocals
Keys master Brother Michael is the founder of the Hellset Orchestra, Ulysses Storm and   Ear Vings, and loves to offset his north-eastern charm with a rainbow sock. Undoubtedly the hardman of the group, avoid pointing his Hammond anywhere other than  stage left or he might dance at you.
Gear:
Nord  Electro 5D
Hammond B200
Leslie   Proline 815
Fender Rhodes mk1
Vox ac15
Special Skill: 
High kicks,  crowd  invigoration
Bass & Vocals
Bass legend and Hagstrom endorsee, Brother Sam Lloyd has played in  many other rock outfits including Pilgrim Fathers and Ear Vings (with Brother Michael). His moustache featured prominently in the 'Inside the Rainbow Lodge' series, contact us and you may well hear back from him directly!
Gear:
Hagstrom Viking
EHX, Jim Dunlop, Snark Pedals
Planet Waves Cables, Jim Dunlop Picks
Ampeg SVT-3 Pro
Special  Skill:
Getting endorsement deals / Ballgames
Strings
Original electric cello commander, Sister Amy Nicholson, sadly stepped down from band duties after album 2 due to expanding the Cosmic Family  and other commitments. She is definitely still alive.
Gear:
Yamaha Electric Cello
Special Skill:
Producing
Recognise the hallucinatory nature of reality
Investigate all aspects of the reality-hallucination
Receive all phenomena with equanimity
Celebrate and uphold the freedom of art, science and thought
Meet mistakes with forgiveness and determination
Do what you want, with love in your heart
Maintain focus on the unity of all living beings
Church of the Cosmic Skull are not only one of the most exciting rock bands in the world today, but also an ever-growing spiritual organization, spreading the light of the Cosmic Rainbow across this planet and beyond.
The Church release their third studio album 'Everybody's Going To Die' in November 2019 on limited edition heavyweight vinyl, CD edition cassette via their own label Septaphonic Records.
The Nottingham based 'spiritual organisation' continue to astonish listeners and festival audiences across Europe with their unique blend of prog, psych, rock, and 'Occult Pop'.
Since their 2016 debut 'Is Satan Real?', electric viola, piano and Rhodes have been introduced alongside the Hammond organ and six-part vocal harmonies, resulting in a sound that truly 'puts the ABBA in Sabbath'.
The decision to remain independent is a reflection of both the changing landscape of the music industry, and the Church's wholeheartedly DIY approach, having turned down major label offers in favour of starting Septaphonic Records and their own live events company, Cyclopean Productions. Quoting one of the '7 Objects', Church founder Brother Bill Fisher describes this as a chance to 'Celebrate and uphold the freedom of art, science and thought.'
2020 will see the Church tour the UK and further afield, continue their 'Tele-Vision' output with mind-blowing new music videos, and invite all living beings to join the Cosmic Family on the 'Psychic Ascension to Humanity' via their internet web-portal: cosmicskull.org
Enjoying this new band's take on prog"
– Jonathan Ross

"If you can catch this band live, you'd be mad not to"
– LeftLion
"Fans of Queen and Queens of the Stone Age will nod sagely"
★★★★
– Mojo Magazine
A true modern day prog rock classic that should be exalted from the highest altar"
9/10
– Powerplay Magazine
"The interplay between the musicians is exceptional"
– Midlands Rocks
"A purely auditory LSD hypnosis, as if everything had suddenly been teleported to the 70s"
– Wav Magazine Spain​
Our musical influences include but are not limited to:
Queen, Thin Lizzy, ELO, Pink Floyd, Black Sabbath, Dio, Rainbow, Elf, The Beatles, Led Zeppelin, Deep Purple, Genesis, The Beach Boys, The Doors, Steely Dan, Mahavishnu Orchestra, ZZ Top, Jimi Hendrix, Abba, David Bowie, Slade, Heart, Judas Priest, Ozzy, Fleetwood Mac, Kate Bush, Randy Newman, Billy Joel, Roy Harper, Peter Gabriel,  Toto, Kansas, Gentle Giant, the list goes on…